Camp Jones Gulch: A Partnership for Youth and Nature
photo by YMCA-San Francisco.
Connecting With Nature and Ourselves
Just as the giant redwoods surrounding Camp Jones Gulch grow from seeds no bigger than a tomato's, a seemingly small experience like a weekend at its outdoor nature camp can grow into a lifelong connection with nature1. A multitude of studies demonstrate that a connection with nature not only helps children experience a better sense of well-being and social skills2 but it also helps them to form more environmentally sustainable attitudes1.
The Y of San Francisco has likewise established connecting to nature as one of their fundamental pillars of youth development. Jamie Bruning-Miles, who was named President and Chief Executive Officer for the The Y of San Francisco in 2020 with more than 30 years of experience with the movement, couldn't agree more. "The Y believes that outdoor education helps us be our healthiest and best self. By connecting youth to nature, we connect them to themselves, we connect them to others," he explained.
As positive as the outcomes from connecting with nature have been, the results of detachment from it are proving to be equally problematic, with negative effects on our physical, mental, and social health—pointing toward increased rates of mental health issues, disease, and crime. "As we know, the disconnection of nature has a significant impact on us as a society," Jamie said. Nature may provide simple solutions for improving our environmental, physical, mental, and social health. But not everyone feels welcome in nature or has equitable access to it and the benefits it can provide.
Jamie pointed to a staggering statistic: only 42% of our lowest economic youth in California have actual access to nature. In his experience, there have been two major barriers to youth in our region from connecting with nature. The largest barrier to access Jamie cites is that transportation is "not universal", particularly as gas prices rise. "That's hard to process as anybody with privilege, to recognize that you could live in Marin County and never see the Pacific Ocean until someone provides access, transportation, to get you there," he explained.
Those who are able to overcome the hurdle with transportation to nature are often met with the second largest barrier, which Jamie calls "perception". Youth who haven't been in nature before or who don't see people who look like them there often feel that 'it doesn't belong to me, it isn't created for me'. "It may be a perception, but perception is reality," Jamie said.
He continued, "So, let's get you there. But also let's go over the fact that this is a free resource and it is meant for you, even though it may not feel like it, or that it's designed for you." These barriers are exactly what Camp Jones Gulch strives to address in a continuation of its innovative legacy that began at the very start.
photo by YMCA of San Francisco
Camp Jones Gulch, nestled in the redwoods of the Santa Cruz mountains, was the first YMCA camp to be established with both nature and inclusion in mind. Thanks to the landowner, Mrs. Black, who included the condition that the camp serve both boys and girls when she sold the land to YMCA in the 1930's, Camp Jones Gulch was at the forefront of inclusion while the YMCA didn't provide access to women nationwide until 30 years later. Jamie said Camp Jones Gulch has been "broadening access from the beginning."
Building upon the camp's inclusive foundation, every 5th and 6th grade student in San Mateo County has been offered a free week at the camp for more than 50 years in partnership with the Office of Education. "Anyone born in San Mateo County in the last 50 years has probably been to Camp Jones Gulch," Jamie said. Currently, about 20,000 campers per year get to attend Camp Jones Gulch. Extending the agreement for another 25 years—offering more generations of campers the opportunity to have outdoor education—is just the start of recent updates to overcome barriers to accessing nature.
A favorite innovation at Camp Jones Gulch for Jamie is the addition of an Inclusion Specialist, another first among YMCA camps, which has already greatly increased campers' access to nature and their engagement with it. The Inclusion Specialist was introduced to the camp when it was noticed that students of color were being disproportionately disciplined—students who were asked to leave camp due to behaviors that "weren't conducive to a healthy outdoor environment" were all youth of color, Jamie explained.
Through thorough assessment by the Inclusion Specialist it was discovered that the challenge lay with staff, not the students. "[Staff] have to recognize that as we broaden access, how they engage, how they communicate, how they talk, how they really support youth that are there. It's the work they have to do, not the youth," he said. "And it's working. Since the shift in focus, no youth have been asked to leave camp."
Encouraged by improved inclusion of campers of a diversity of races and ethnicities, Jamie said they wanted to go deeper to expand access to include other marginalized youth. That is how the first YMCA camp to include girls became the first camp to offer gender neutral cabins— expanding access once again to include all gender identities amongst its redwoods. "The inclusion specialists are now helping individual youth as they transition into who they are meant to become," Jamie said, and the gender neutral cabins sell out every time.
For some youth in the community, attending nature camp alone can still feel unattainable or intimidating, so Jamie said Camp Jones Gulch offers Family Camps during the summer so youth can swim, cook, and connect with nature and their families. "We just keep knocking those barriers out as much as we can to ensure that access is universal," he said. The next two challenges on the list? Ensuring the health of the forest that campers connect with and keeping costs down while continuing to expand access to nature at Camp Jones Gulch and beyond.
But the unfortunate reality is that nature and access to it aren't free. A partnership as innovative as the camp's legacy of inclusion is needed to protect the forest and its inhabitants that campers come to enjoy, it will also help make it possible for more youth to access and feel included in the redwoods for generations to come—and that is where the partnership with Sempervirens Fund comes in.
photo by Canopy Dynamics.
"Access to nature should be a free and fundamental right in California," Jamie told us, and we couldn't agree more. Camp Jones Gulch's 920 acres are brimming with nature including old-growth redwoods like the "Valley of the Giants", creeks, and diverse habitats that support many plant and wildlife species. But each year, Jamie says the fires get closer and closer to camp, adding work to improve the forest's resilience to the list of priorities along with inclusion.
When considering how to best protect the nature that youth are there to connect with, they began discussing a partnership with Sempervirens Fund that would both expand protected lands and youth access to nature. Jamie summed it up best, "A healthy camp. A healthy forest is in both of our best interests—for the interest of the youth that we're bringing access to and for Sempervirens Fund as a conservationist. Our goals are never misaligned. They are always mutually supportive of each other. That's the beauty of what's happened."
"A healthy camp. A healthy forest is in both of our best interests—for the interest of the youth that we're bringing access to and for Sempervirens Fund as a conservationist. Our goals are never misaligned. They are always mutually supportive of each other. That's the beauty of what's happened."
—Jamie Bruning-Miles, President and CEO for The Y of San Francisco
After initial discussions, Sempervirens Fund has entered into a contract to purchase a conservation easement on Camp Jones Gulch, which will permanently protect its forest creeks and habitat, for $9.625 million. "Part of this partnership is to make sure we protect the land. Protecting land protects access, protects our connection to nature," Jamie explained. But the partnership isn't just protecting the land Jamie said. "It's also going to help improve access and inclusion in the redwoods while helping to keep costs down, another important barrier that can prevent youth from attending camp."
In addition to completing infrastructure upgrades and repairs to the camp, Jamie said the vision for camps includes pathways for physical, social, and economic mobility. "Our next evolution has to ensure that varying exceptionalities are able to access and enjoy nature. That means accessible pathways for wheelchairs, access to restrooms, all those things are necessary as we continue to expand so no youth feels like they're not included in that definition of connection nature," Jamie said. And they're hoping to take the concept of access to nature from the camp and into the future.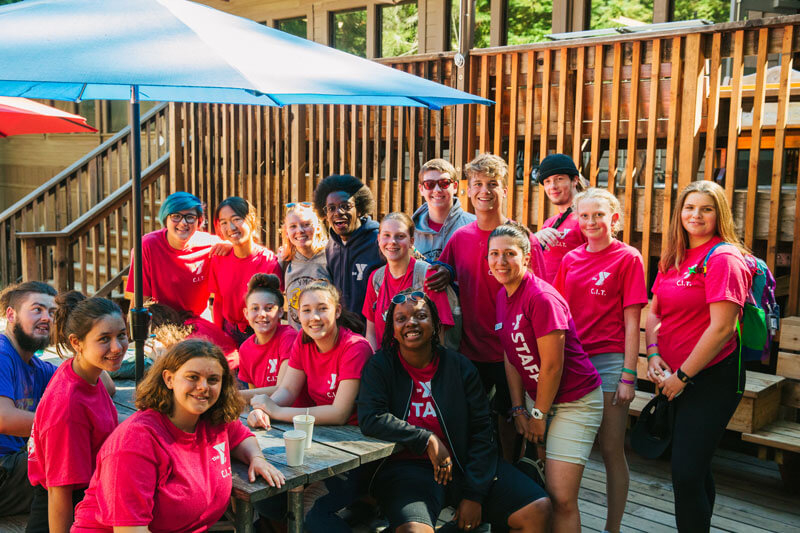 To help overcome the barrier of perception that youth of color may feel they don't belong in nature or that it doesn't belong to them, Jamie said The Y of San Francisco plans to expand the concept of their Outdoor Advanced Leadership Academy to encourage the next generation to see past attending camp to careers in camps, parks, or forestry.
He points out the majority of forest Rangers are white across the U.S.3 and the need to diversify to better reflect our communities so youth can see people that look like them—not just in nature camps but in nature careers. "We're going to take the easement and invest it in the experience at Camp Jones Gulch so we can offer youth access to nature from camps to careers," Jamie said. "That's the kind of work that's going to happen in the next couple of years to come. And it's starting with the easement in September."
photo by Canopy Dynamics.
It all comes back to nature, as Jamie said it's why youth go to Camp Jones Gulch—to connect with nature. And what he said campers count amongst their most cherished memories from camp isn't just flying down the zip lines, it's kissing banana slugs and seeing the ancient redwoods in the "Valley of the Giants." Seeing some of the oldest trees in the Santa Cruz mountains, as tall as city buildings is a life changing experience for students,"This thing has been around for so long, way beyond their time on this planet will be, and how majestic it is."
To make sure the "Valley of the Giants" and banana slugs continue to inspire and connect youth to nature for generations to come, we will create a $422,000 stewardship fund to monitor the easement and enhance and restore forest health, reduce the threat of wildfire, and promote climate resiliency across multiple wildlife habitats. In addition to caring for old-growth and second generation redwoods and teaching stewardship practices to youth, Jamie said the partnership will ensure that forest science drives the decisions." There's a commitment for us to meet once a year and to go beyond the easement to say, are we really taking care of this forest? Do we understand what the carrying capacity of the amount of youth that go there every year is?"
Jamie said the partnership is mutually supportive with the same goals, the same dreams, the same aspirations—for a healthy forest. With the partnership and the conservation easement, there's a perpetual commitment for the health of the forest, the camp, our youth, and our community ensuring its redwoods will continue to inspire for generations to come. "It's just the beginning."
photo by Canopy Dynamics.
Interested in digging a little deeper into the science behind how time in nature benefits our physical, mental, and social health and helps to create a lifelong connection and environmentally sustainable attitudes? Here are some sources with more information indicated in the facts above:
Evans, Gary W. , et al., "Childhood Origins of Young Adult Environmental Behavior." Sage Journals, vol. 29, issue 5, Feb. 15 2018, pp. 679-687, https://doi.org/10.1177/0956797617741894
Zelenski, John M., et al. "Cooperation is in our nature: Nature exposure may promote cooperative and environmentally sustainable behavior." Journal of Environmental Psychology, vol. 42, Jun. 2015, pp. 24-31, https://doi.org/10.1016/j.jenvp.2015.01.005
"By the Numbers." U.S. National Park Service, 19 May 2022, https://www.nps.gov/articles/000/by-the-numbers.htm