You can marvel at these breathtaking (and breath-giving) specimens of the world's tallest trees this short easy hike that is perfect for the whole family. To start your hike, visit Big Basin Redwoods State Park. The Redwood Loop Trail begins from the main parking lot near Park Headquarters. The Mother of the Forest is Big Basin's tallest tree measuring 329 feet in height. The Father of the Forest and the Santa Clara Tree are the park's two widest trees—the Santa Clara Tree measures 17 feet in diameter! Located on North Escape Road just a short meander from the Redwood Loop Trail and across from park headquarters is another inspiring tree—the magnificent Statue of Responsibility. This tree is a 255-foot high living "statue" that serves to remind visitors of the link between liberty and responsibility. It was named in 1989 as a result of a passionate campaign led by Billy Prior Bates, a Women's Army Corps veteran of World War II and long-time Sempervirens Fund supporter.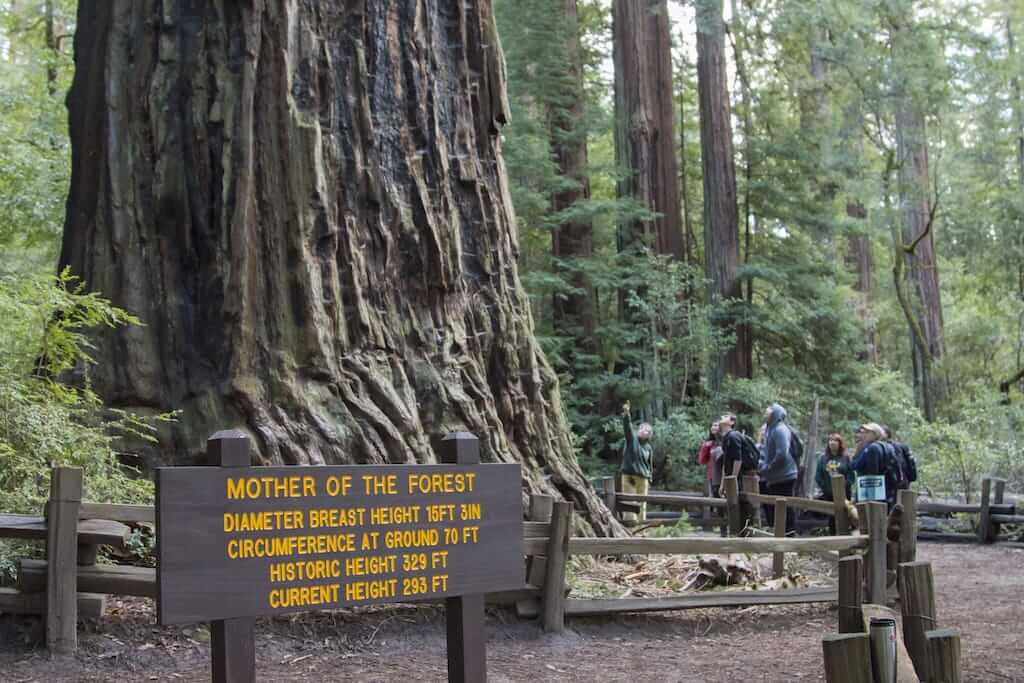 Getting to Sempervirens Falls is just a short 1.7 mile hike on the Sequoia Trail where you can enjoy many large coast redwoods towering above. Cross over Sky Meadow Road and walk about 30 steps down to the viewing platform. Or you can get to the falls by biking or driving on Sky Meadow Road, parking in the spot just before the falls.
Plan Your Hike
Address: Big Basin Redwoods State Park, 21600 Big Basin Way, Boulder Creek, CA 95006
PLEASE NOTE: There is a temporary detour to Big Basin Redwoods State Park due to a road closure on lower Highway 236 from May to June 2023. Please see the map and detour information below.
Hours: Portions of Big Basin are open for day use from 8:30 am to sunset with reservations
Directions: click here for Google maps directions DETOUR: From Boulder Creek, head north on Highway 9 for 7.8 miles, then turn left onto upper Highway 236 for an 8-mile descent into the heart of Big Basin.
Park Activities
Bike Trails
Hiking Trails
Horseback Riding
Camping
Swimming
Nature & Wildlife Viewing
Windsurfing/Surfing
Geocaching
Park Amenities
Restrooms
Drinking Water Available
Picnic Areas
Food Service
Camp Store
Volunteer
Throughout the year, Sempervirens Fund holds a variety of volunteer events, including invasive species removal, trail clean ups, and more! Check out our Volunteer Page for more information.