Close Encounter: Monitoring Marbled Murrelets
A Rare Encounter with an Endangered Seabird in the Forest
Usually, finding a marbled murrelet in the redwoods is hard. Like next to impossible, hard. But on September 11th, a hiker at Portola Redwoods State Park spotted an endangered marbled murrelet, not only in the forest but on the ground.
Thankfully the hiker recognized the poster child of Crumb Clean campaigns and notified Visitor Service Aide James Peters at park headquarters around 4pm. As soon as James heard the hiker's report of a juvenile marbled murrelet (Brachyramphus marmoratus), he called Portia Halbert, State Parks Senior Environmental Scientist, who happened to be out of town on vacation so she reached out to Alex Rinkert, a consultant and local murrelet expert, and Laird Henkel, Senior Environmental Scientist with the California Department of Fish and Wildlife.
By 7 pm, the young marbled murrelet was retrieved by James and transferred to Alex who brought it to Laird at California Department of Fish and Wildlife Marine Wildlife Veterinary Care & Research Center in Santa Cruz. Alex assisted Laird with examining the fledgling who was found to be "bright, alert, and energetic" and surprisingly without any injuries after what was likely a harrowing crash landing during its first flight from its nest in an old growth tree far above. Although the unseasoned murrelet still had a visible "egg tooth"—the tip on its beak used to break through their shell when hatching—the bird was found to be fully feathered without visible down, and enough muscle and fat for it to continue to make its way out to sea with a little help and a new accessory.
photos by James Roy Peters, Alex Rinkert, and Laird Henkel
The marbled murrelet was given a number three stainless steel band with a unique tracking number, to prepare for the fledglings' release the same night in accordance with Standard Operating Procedure for a healthy, grounded juvenile. By 8:35 pm, under the cover of night and a blanket of fog, the bird was released into the gentle surf east of Pigeon Point Lighthouse. Alex and Laird watched the young marbled murrelet encounter its first breaking wavelet and dive below to resurface a few seconds later on the other side. They watched it dive below waves making its way out to sea–where it would spend most of its life–until they couldn't see it any longer.
Hopefully, someday this same bird will return to the forest to nest.
Over in just about four and half hours, from first sighting to release, this marbled murrelet encounter was a whirlwind. It was also incredibly rare.
Milestones of the Mysterious Marbled Murrelet in the Santa Cruz Mountains
1974
1st Nest Found, Big Basin
1992
Endangered Species Status
Early 2000s
Zone 6 Meetings Began
2020
Estimated 50% habitat loss from CZU Fire, Zone 6
July 2021
1st Fledging Ever Recorded, Big Basin
September 2023
Fledgling Encounter, Portola Redwoods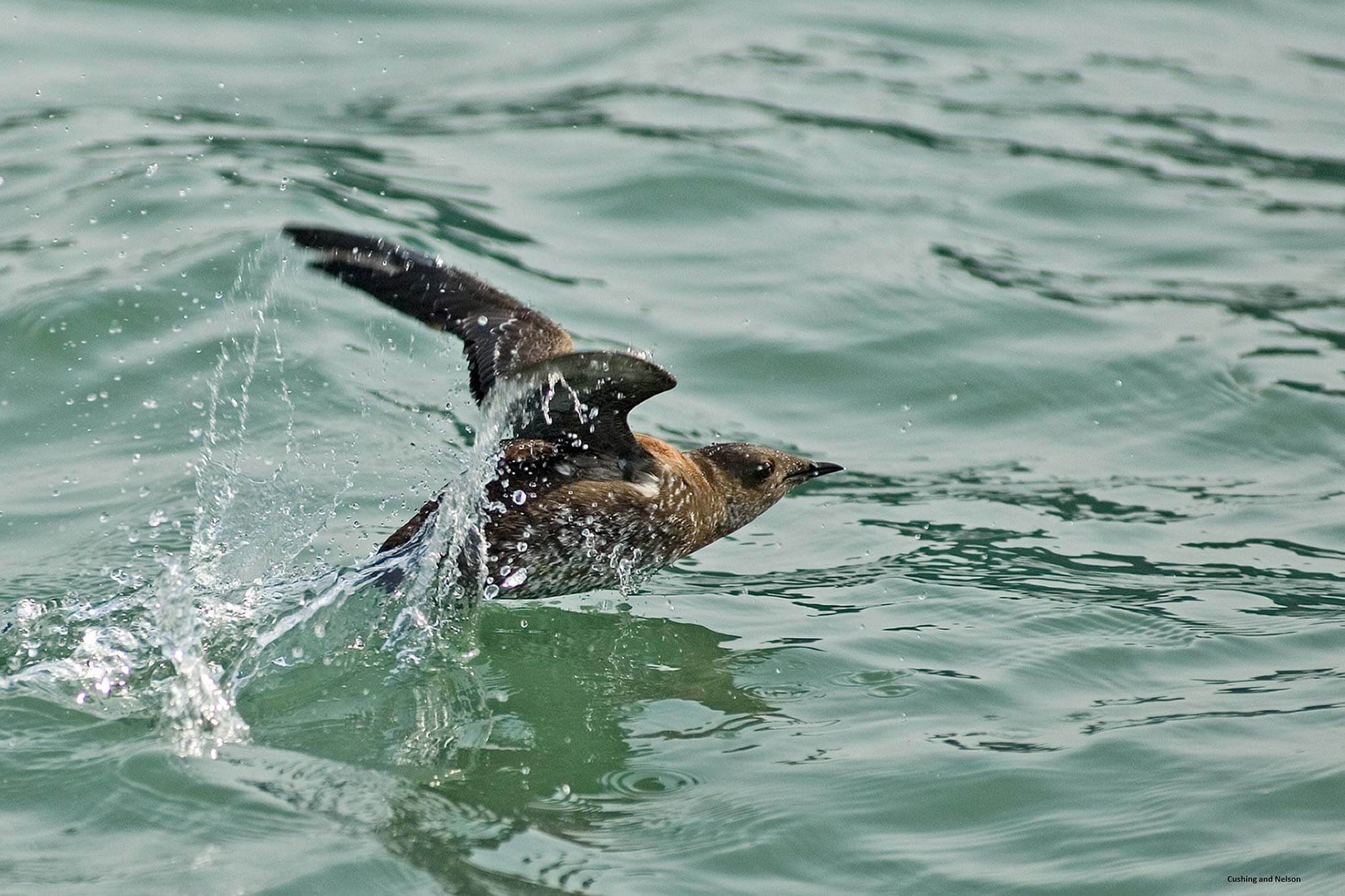 photo by Kim Nelson and Dan Cushing
It's extraordinary to see a marbled murrelet in the redwoods. But the reason may surprise you. Despite being an endangered species and in the Santa Cruz mountains facing some of the largest habitat impacts, it isn't their scarcity that makes the encounter so rare.
For being described as a potato with wings, the endangered seabird is shockingly fast–up to 100 miles per hour–and elusive. In fact, when training to monitor for marbled murrelets in the wee hours of the morning when the birds are most active in the forest, Sempervirens Fund's Natural Resource Manager Beatrix Jiménez-Helsley says monitors are not supposed to sit or even lean on anything so they can be most alert for any potential sounds of wing beats or calls because the birds themselves are usually too fast and too well-camouflaged to be seen.
So how can we monitor for the presence of these endangered and secretive birds to protect and support the habitat they need?
Monitoring Marbled Murrelets
Considering how difficult marbled murrelets are to see in the redwood forest, Beatrix and Alex designed a survey to monitor marbled murrelets utilizing two different approaches to gather information.
First, acoustic recording units (ARUs) would be placed along strategically selected flyways—rivers and creeks murrelets follow from the sea—in the forest. The ARUs can be set to record sounds around sunrise and sunset when marbled murrelets are most active in the forest. The recordings can help confirm if marbled murrelets were at a location and narrow down the most promising spots for more in-depth monitoring.
Second, Alex will visit each site once a month throughout nesting season, standing for several hours through sunrises and sunsets hoping to catch a potato-like glimpse below the canopy or hear a boomerang—like whoosh of a wingbeat indicating a nest is nearby. As Beatrix explains, a marbled murrelet flying below the canopy is more exposed to predators, so something has to be worth taking the risk—like caring for offspring.
Beatrix Jiménez-Helsley (left) and Alex Rinkert (right) survey the forest for ideal marbled murrelet monitoring locations, by Orenda Randuch.
Approaches to Monitoring Mysterious Marbled Murrelets
Acoustic Recording Units (ARUs)
What: records audio
When: scheduled around sunrise and sunset, April-August
Where: 5 "suitable habitat" locations
How: software can parse likely "keer" call and wingbeat detections for researchers
In-Person Monitoring
What: watches and listens
When: once a month, near sunrise and sunset, April-August
Where: 5 "suitable habitat" locations
How: can verify nesting behavior and possibly location
Most importantly, the monitoring sites are selected in suitable habitat areas. In Alaska, marbled murrelets can nest on the ground when trees aren't available, but for marbled murrelets here in the Santa Cruz mountains, that means near creeks and flyways they may follow from the sea into the forest, and it means old-growth trees that can provide the secretive canopy cover and diving board-like upper branches that can support their nest.
This is just one of the differences for marbled murrelets in the Santa Cruz mountains.
The team appears miniscule compared to the fluffy basal sprouting of the large redwood trees above that offer suitable nesting habitat for endangered marbled murrelets, by Orenda Randuch.
Struggling in the Santa Cruz Mountains
Like the redwood forests they rely on for their reproduction, this is the southernmost end of marbled murrelets' range where they face the brunt of climate change effects like warming temperatures, droughts, and increasingly severe and frequent fires. In 2020 alone, it was estimated that 50% of marbled murrelet's suitable habitat in the region was lost due to the CZU Fire.
Compounding the challenges, depending on two different types of habitat—ocean and forest—means marbled murrelets are threatened by climate impacts on both fronts. The Santa Cruz mountains marbled murrelets are also close to major metropolitan areas and farther from federal forest lands and the protections that come with them. But Portia, Laird, Alex, and Beatrix actively participate in a collaborative marbled murrelet research network striving to pool data and resources across agencies and landowners in this especially challenging southernmost habitat region in the Santa Cruz mountains, officially called Zone 6 by U.S. Fish and Wildlife Service.
As stewards of several thousands acres of protected redwood forests and lands in the Santa Cruz mountains, Sempervirens Fund actively monitors for marbled murrelets in suitable habitat areas. Last year, marbled murrelets were detected at 3 out of 5 monitoring locations which was encouraging after concerns nesting habitat loss from the 2020 CZU Fire could be a potential final blow to the struggling species in Zone 6.
We hope more encouraging findings will result from this year's marbled murrelet monitoring.
Hundreds of hours of audio recordings from the ARUs are being parsed with software by Conservation Metrics Inc. to help narrow down sounds specific to marbled murrelets like their signature "keer" call and their wingbeats. Alex says this data can be used to verify his in-person monitoring findings and provide daily comparisons for his monthly visual findings. Once the analysis is finalized, Alex and Beatrix will share their results with Portia, Laird, and the rest of the Zone 6 marbled murrelet monitoring network to help inform our regional understanding of how the sensitive and secretive species is faring at the end of its range.
Stay tuned for the monitoring results in Part 2 of this story. In the meantime, learn how you can help support struggling endangered marbled murrelets in the Santa Cruz mountains.
A spectogram of a marbled murrelet call from an ARU, by Conservation Metrics International
While we may not all be able to stand alert for hours monitoring for speeding potatoes in waning light, we can all play a part in protecting this endangered seabird in the redwood forest.
If you think you see a marbled murrelet, please notify a park official so they can confirm and follow the appropriate procedure.
Learn More
Marbled murrelet eggs can fall prey to corvids like jays, ravens, and crows, which tend to follow human presence in hopes of crumbs. Watch a video to learn how to be crumb clean and help prepare your parks for nesting.
Watch the Video
This marbled murrelet monitoring work was made possible by a grant from the Arthur L. & Elaine V. Johnson Foundation. You can support more stewardship work like this to monitor, restore, and care for the redwood forest and its species by making a donation.
Donate Now